Spring Season - March through May
Spring in Maine's Northwestern Mountains Region is everything good about spring. Although there are many changes in the weather, you will experience glorious spring skiing days along with sunny après and "corn snow" days. The weather can be "fickle", a winter storm may arrive one day and then provide a perfect powder day the next – we call this "poor man's fertilizer!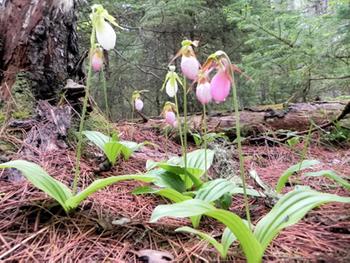 Lady Slippers
Some of the best backcountry snowmobile sledding can be found along with the crunch of cross-country skiing and Fat Tire biking on the many trails available for both sports. Ice fishing is a time-honored sport for the whole family to enjoy until April 1st.
As winter ends and spring arrives, you can enjoy a quieter time when the crocus, daffodils, lupine, forsythia and crab apple trees awaken from their long winter naps and their majestic colors and aromas begin to fill the spring air.
An unforgettable spring weekend may include the annual four-day Reggae Fest at the base of Sugarloaf Mountain, the biggest spring party in the East. The Sugarloaf Marathon, an official qualifying race for the Boston Marathon certified by the United States Track and Field Association (USATF), draws hundreds of racers from all over the United States and Canada. The setting for this race along Route 27, Maine High Peaks Scenic Byway, is breathtaking with exceptional views of our mountainous surroundings, Flagstaff Lake, and the Carrabassett River.
Mountains of Possibilities . . . Come Play In Our Backyard!