Snowmobiling
Ride The BLACK FLY LOOP, the largest Loop Trail in Maine! Enjoy and explore over 300 miles of some of the best-groomed trails in the state. Maine's Northwestern Mountains region offers food, fuel, and snowmobile lodging throughout the Region with direct access to local trails, municipal trails, and ITS trails. Be sure you "KNOW BEFORE YOU GO". Check local ice conditions with any of our local clubs before venturing out on any lake or pond.
Arnold Trail Snowmobile Club ~ Stratton and Eustis groom 150 miles (one way) of trails in and around Stratton and Eustis. The major trails connect with Rangeley, Carrabassett Valley, Grand Falls, The Forks and north to Canada.
JV Wing Snowmobile Club ~Carrabassett Valley has over 55 miles of groomed trails. The groomers use state-of-the-art Mogul Master Drags to accommodate 10-foot-wide trails.
Kingfield Sno-Wanderers Club maintains over 50 miles of trails. Easy trailside parking is available next to the Sled Shed on the south side of town. The club generously maintains the popular sliding spot on Gilmore's Hill and sponsors an annual sliding party during February vacation.
Lexington Highlanders Snowmobile Club grooms almost 60 miles of trails covering Lexington, Highland, Concord, and Pleasant Ridge. These trails connect to Kingfield, New Portland, Bingham, and Carrabassett Valley.
Wire Bridge Sno Travelers ~ New Portland has a core group of dedicated volunteers that groom and maintain 60 miles of trails.
Our clubs are proud of their trail system and welcome all visitors. Please ride safely and respectfully as 95% of trails are on private land.
Unique snowmobile Destination
Café Relli's Warming Hut is a welcoming, friendly place to warm up and socialize. It's a must-stop destination spot on ITS 84 on Bennett Hill Road in New Portland. Snowshoers, cross-country skiers, fat tire bikers, and anyone using the trail are welcome. Bill Cafarelli keeps the warming hut open 24/7. The kitchen is open weekends with a simple menu of hot soups, grilled cheese sandwiches, hot dogs, chips, coffee, and cocoa. The pricing is surprising: All Bill asks is that visitors bring dry goods to be donated to the local food pantry or donations to restock the kitchen.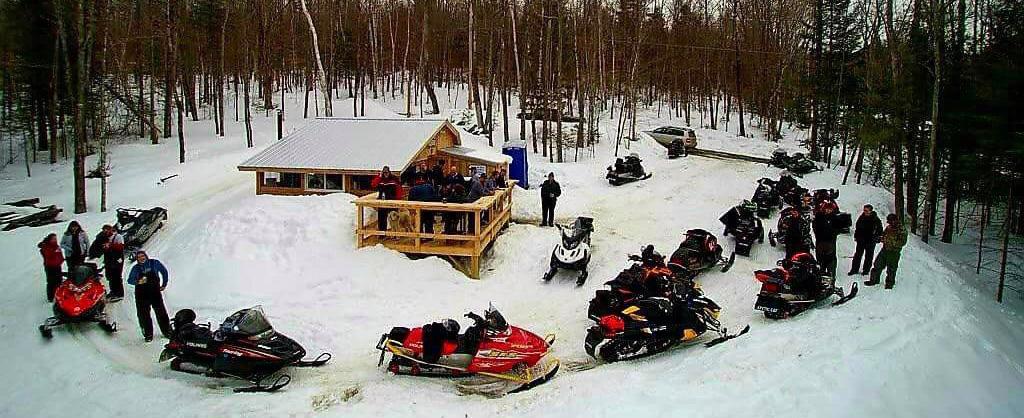 Café Relli's