Alice and Lulu's Mountainside
Mailing Address
9003 Main Street
Carrabassett Valley, ME 04947
Contact Information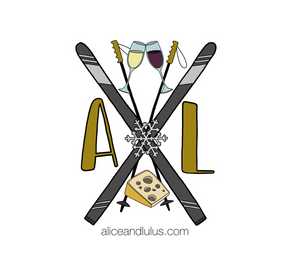 Location
ABOUT US:
Alice and Lulu's is brought to you by two people obsessed with all things food. Alexis is the food portion of the equation, Laura the wine and hospitality. No matter how their skills may be divided, both are intensely committed to bringing people the best possible products and service.
From cheese, to bread, to wine and all of the wonderful things in between, we seek out the best of the best, and when we can't find something suitable, we make it ourselves, reworking the recipe until it's perfect. We take pride in bringing you the best culinary experience we possibly can in a comfortable, inviting, relaxing atmosphere - whether that's sitting in our restaurant or next to the fire in your living room.
Right about now you may be asking "What's with the name?" Well, the answer is quite simple. The love of food was bestowed on both of our owners through their families, passed down through French and Italian lineages with food at the center of their lives. Committed to bringing their families together and providing them only the best, the strong matriarchs of these families instilled in this latest generation an intense respect and love for food. It is after these women, Alice and Lucette, that they have chosen to name their restaurant.

MOUNTAINSIDE FARE:
Our focus is centered around highlighting Old world flavors all the while working with products from our very own micrO-farm in Kingfield and across our great State of Maine. We intentionally source the foods and wines from small farmers and vignerons with massive integrity. It is important for us to support those who remain protective of the land they grow on and those who choose to produce with minimal intervention and put into practice sustainable + organic farming practices.
Alice and Lulu's is committed to bringing you only the best products, sourced as locally as possible, wherever possible. It is our belief that our future is right here, in our local economy and that it is our job to help the people who help us. That said, we do also import a selection of products which are unavailable here in Maine. We search far and wide for small purveyors who are doing something unique and delicious. Wherever it comes from, you can rest assured that in this world of big box stores and multinational corporations, Alice
and Lulu's is doing everything it can to put money back into the pockets of small business people everywhere.
Our convivial eatery strives to bring people together from all corners of the world with great food, a relaxed service style and friendly hospitality.
ALPINE SPECIALTY (SEASONAL MENU OFFERING AVAILABLE OCTOBER-MAY)
Taking it's name from the famed Swiss Alpine cheese, Raclette brings eating, dining and socializing to a whole new level. Seated around our reclaimed wood table, you will have the opportunity to grill your meats and vegetables while you wait for that perfect little skillet full of cheese to turn into molten, bubbl y, glory. When everything's ready, you simply pour the cheese over the top of your plate full of goodies and BANG! Glory in your mouth!
Our restaurant is open for dinner Wednesday – Saturday, 4pm-9pm by reservations. You can secure your booking by visiting our website www.aliceandlulus.com or by calling us at 207-235-611. We can't wait to meet you!

OUR TEAM: Meet the faces behind A&L

Laura Godin

WINE GURU AND CREPE MASTER
Laura is a French born food and wine enthusiast. Laura was raised in a small suburb outside of Paris by a French father and an Italian American mother. As she grew, she was exposed to cooking and eating some of Europe's finest delicacies. The strongest influence behind her love and understanding for sourcing, cooking, and eating great food was her grandmother Lucette ('Lulu' to family and friends). Cheese and wine were at the center of all conversations, and always had a place on the table. It was at Lucette's home on the family farm in the French countryside that Laura's curiosity and inspiration would flourish. Constant travelling between France and New York (where her extended family resided) exposed Laura at a very young age to a world of languages & travel that married perfectly with what had become her true passions: food & culture.
Most recently, Laura ran the Bullwinkle's at Night dining room at Sugarloaf Mountain. Previous positions include the historic Fairmont Copley Plaza hotel in downtown Boston as their Guest Relations Manager and Petrossian Paris & Boutique in West Hollywood, CA as their Dining Room Manager. Laura, never content to stop learning, has completed her Sommelier Certification from the Court of Sommeliers and looks forward to beginning the next step of training.

Alexis Godin

CULINARY WIZARD, CHEESE AND CHARCUTERIE ENTHUSIAST
Alexis (A-lek-see) was raised in Massachusetts in a family that revolved around each other as well as food; The first rule of being a Godin has always been "Families who eat together, stay together." Mom put a home cooked meal on the table every night of the week for her family and made sure everyone was home to eat it. The second rule is "Happy hour starts at 5 on Fridays." Both immediate and extended family joined the fun every week. These two simple rules and rituals would shape Alexis' life from an early age. Debating skills were honed next to her brother at the dinner table every weeknight and an appreciation for good food, drink, and conversation grew every weekend. Either way and under either rule, food and family were the centerpieces of life growing up in the Godin household (and to this day).
Alexis' love of food drove them to the food industry at a young age and it quickly became their life's work. From their first job in a pizza shop at 14 years old until now, Alexis has continued to work toward the dream of someday owning their own establishment. While pursuing an Associate of Science in Culinary Arts from Johnson and Wales University (Magna Cum Laude, January '13), Alexis began working in kitchens and travelling. They have spent time in London, Boston and Los Angeles, worked for companies as large as Marriott, as small as Hungry Mother (Cambridge, MA) and a couple in between. Alexis has served as Sous Chef to acclaimed Chef and Author Suzanne Goin at her restaurant Tavern LA (Brentwood, CA) and most recently was the Executive Chef at 45 North restaurant on Sugarloaf Mountain.

RESTAURANT DIRECTIONS:
Alice and Lulu's Mountainside is nestled at the base of Sugarloaf Mountain in Carrabassett Valley, Maine, on the mountain-facing side of the Sugarloaf Mountain Hotel.
There is 60-minute parking (Lot B) adjacent to the Sugarloaf Mountain Hotel. If you plan to stay awhile (and we hope you will!) the hotel provides valet services, or Lot C is available to guests for long term parking. Guests may also use the skier drop off area across from handicap parking for food pickup as long as someone remains with the vehicle at all times.
Take advantage of the Mountain's free shuttle service. One parking lot shuttle will run until 8pm on Friday and Saturday nights, taking guests from their vehicles to the base area and back. One condo shuttle also runs daily to get you to/from your doorstep to the Sugarloaf base area, as well as a variety of locations off mountain.

CATERING INFO:
From intimate parties to big celebrations, we would love to be a part of your presentation. Our services range from a crêpe station to appetizers to full catered meals. Fill out the form below to give us an idea of what you're looking for and we will get back to you as soon as possible. Please use the subject line "catering info request." We look forward to working with you!

We recently added a food trailer to our fleet/ list of mobile catering services – The Wheelhouse Maine serves Alpine casual fare within the state of Maine. Call us up next time you find yourself dreaming of cheese! We're here to serve. You won't