Hiking
The variety of hiking opportunities in Maine's Northwestern Mountains Region is unparalleled!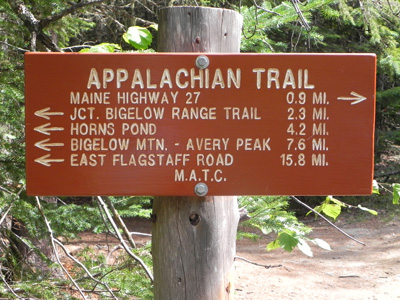 For every season and experience level; from an afternoon, day, or week-long trek – your hike is sure to be unforgettable! Three major trail systems welcome hikers – Maine Huts and Trails, the Appalachian Trail, and footpaths of the pristine Bigelow Preserve. Dozens of more local routes head to mountaintop views, deep woods waters, and quiet spots in our great Northern Forest.
Maine Huts and Trails operates a world-class system of backcountry trails and ecolodges for people-powered recreation. Their staff can help you plan a trip for any time of year on their more than 80 miles of trails. Enjoy a day hike, an overnight stay or multi-night outing – or arrange for a guided tour to one or all the lodges.
The world-famous Appalachian Trail runs right through Maine's Northwestern Mountains Region, offering opportunities for more day hikes and overnight trips in some of the most scenic wild country in the Northeast.
The Narrow Gauge Pathway follows the banks of the Carrabassett River and is a nonmotorized multiuse trail that attracts hikers of all ages and skill levels.
Bigelow Preserve Trails by the shores of Flagstaff Lake, offer wildlife viewing and a dip on a warm day. Higher-reaching trails in the Preserve lead to summit views of the High Peaks region – and north to Quebec. Cathedral Pines Pathway, walking trails at the Sugarloaf Outdoor Center, and waterfall walks to Huston Brook Falls, West Mountain Falls are just a few of the many local trails awaiting hikers!
Maps and guidebooks are available at local outfitters, bookstores, retail shops, and information centers – including Maine's Northwestern Mountains Visitors Center on Route 27 in Carrabassett Valley, which is open all year! Kingfield is an official Appalachian Trail Community, welcoming hikers from around the world. Hikers will find here a receptive community, comfortable lodgings, a variety of restaurants, and shops with outdoor gear and clothing. Kingfield is known for its "Trail Angels" – people who welcome hikers and go out of their way to make the trail experience a very happy memory.


The pristine wilderness, remoteness, and simple beauty of the area's trails will keep you coming back season after season!