Rangeley Lake Resort
Mailing Address
2222 Main Street
Rangeley, ME 04970
Contact Information
Location
Rangeley Lake Resort is a four-season vacation destination where each season offers a variety of opportunities for vacationers. Two or three-bedroom cabins offer spacious living areas with fireplaces, full kitchens, and we are dog-friendly. Nearby, guests have access to an outdoor pool and spa tub, BBQ grills, and a clubhouse.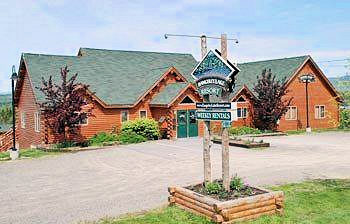 In the spring, fishermen flock to Rangeley's lakes, rivers, and streams while moose emerge from the forest to enjoy the lush growth. Summer is ideal for hiking, canoeing, kayaking, water skiing, fishing, golf, tennis, mountain biking, ATV excursions, and more.
Fall foliage is exceptionally beautiful in this part of the country with brilliant colors and crisp weather. The views in Rangeley of the surrounding mountains and valleys are a Photographer's paradise.
Snow bunnies flock to Rangeley in the winter for snowmobiling, skiing, snowshoeing, and many other winter activities. The area is home to the Saddleback Maine alpine skiing area as well as Sugarloaf, New England's premier golf and ski resort.
Summer offers swimming, boating, and kayaking. You can also enjoy all that's offered right at your doorstep, including a clubhouse with a heated swimming pool, hot tubs, and a cedar sauna. There is also a fully-equipped fitness facility for use by guests at no charge. In the evenings you can retreat to your private cabin to enjoy modern comforts and amenities in a rustic woodsy setting.
We also have canoes and tandem kayaks available for use.
In the Winter Rangeley Lake Resort has access to a snowmobile trail system from any cabin.
There is a downhill ski mountain nearby, cross-country skiing, snowshoeing, and ice skating.
Come and join us, your very best vacation memories will be made right here!
Due to the COVID-19 pandemic, and for the welfare of all our valued guests,
Rangeley Lake Resort has made the difficult decision to close temporarily.
We much appreciate your patience and understanding during this challenging time,
and we look forward to reopening to serve you once again.
Continue following us on Facebook for any updates, and feel free to reach out with any questions you may have.
Thank you, and stay safe.
- Rangeley Lake Resort Management